Rocktoberfest 2016 Wrap-Up
23 October 2016
Another Rocktoberfest has come and gone and we are thrilled to announce that this year's event was our most successful ever! With the help of the best climbing community in the world and all of our awesome sponsors, we raised over $40,000!! That is HUGE, because we have a $36,000 mortgage payment for the MFRP coming up. Without your help, we wouldn't be able to continue to secure world-class climbing for everyone to enjoy!
With record attendance, hundreds of climbers enjoyed their time at Rocktoberfest, testing their speed climbing skills, launching water balloons and throwing light-up javelins. They browsed the booths of our great sponsors, picking up swag and learning about all the different products out there. On Friday night, everyone gathered in the hangar at Land of the Arches to watch Reel Rock, and on Saturday they got together again to hear Petzl and Red Bull athlete Sasha DiGiulian talk about how much she loves the Red, followed by some bluegrass music from the Mike Creech Band. On the mic both nights keeping everyone informed of the goings-on was Kris Hampton of Power Company Climbing. This included taking a timeout to personally thank a few amazing volunteers, giving out a few awards. We had two Volunteers of the Year- Mike Chung for our website redesign and Eric Cox for procuring our new location at Land of the Arches and helping to ensure Rocktoberfest went off without a hitch! We also honored Executive Director Emeritus Bill Strachan will a Lifetime Achievement Award for his many years of dedicated service to the RRGCC.
On Saturday, eager competitors headed to the MFRP for the Black Diamond Clip n Go Comp. Everyone gave their all, but only the best could win. Those winners are-
Katie Eichhorn
Emmalee Orlette
Jocelyn Richmond
Men's Jalapeno
Marty Vogel
Zach Davis
Jeffrey Wilges
Women's Habanero
Lena Moinova
Melissa Wagner
Men's Habanero
Erik Kloeker
Dave Hinton
Ben Circello
Sunday, dozens of climbers expanded their climbing skills and knowledge by attending one of our many clinics. Big thanks to Red River Outdoors for loaning us the gear we needed!
We had a great time celebrating climbing in the Red River Gorge and we hope you did too. Next year, we want to make it even better! You can help us do that by taking this survey - https://www.surveymonkey.com/r/3T7X2XN!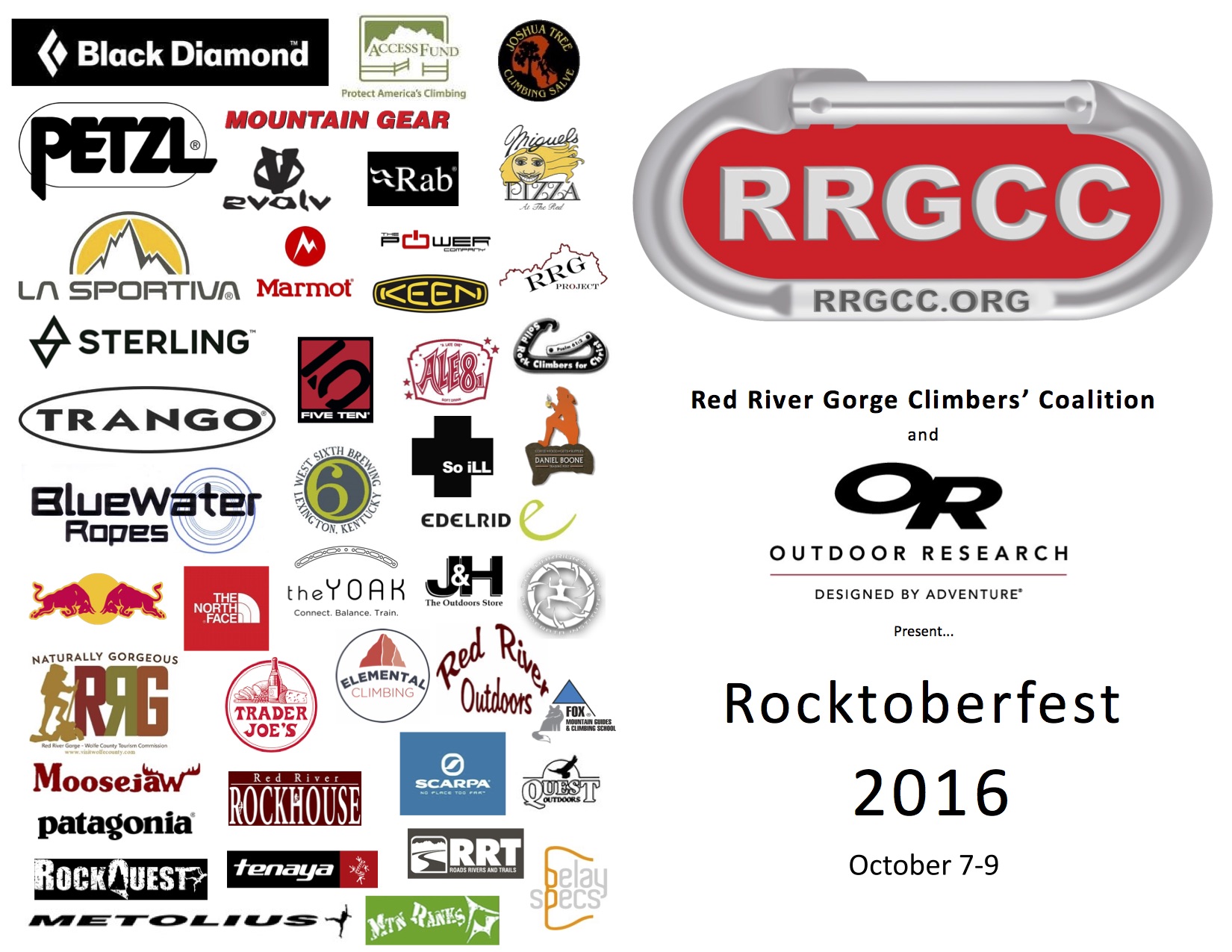 Main page photo credit: Dan Chandler